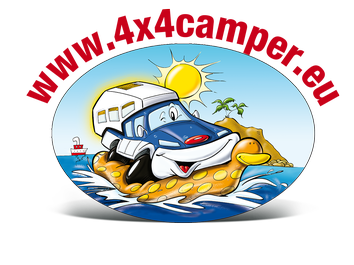 "PICKY"... Adventure Units for Pick Up Campers!
Strong, Light & Comfortable

The unique Pickup Camper Cabin with all furnishing formed by 100% water resistent laminated panels, with alveolar Polycarbonate core.
Fiberglass Shell
-
Stainless-Steel & Aluminium Details -
100% Alveolar Aluminium Floor
"... have a nice ford !"
EQUIPMENT
3 + 1 Beds

Kitchen

Bathroom


Toilet with 20L recovery tank

SOG wc ventilation

Indoor / Outdoor shower

Webasto Heating

Hot Water

50L Waeco Refrigerator

100 Liters water stock, with "foot-switch water saving system"

48L (dirty water) recovery tank

Roof porthole fan 400x400 mm.

Tv + Tubolar Antenna & 30dB Amplifier

Multimedia player + Speakers

Turnstrip led lights

Insulating folding roof

Cabins Tested -20°C / + 45°C
ENERGY
Power Unit: NDS Power Service Gold
All in one: Car12v / 220V Camping / Solar
Two Flat Solar Panels= 265Wp

Solar panel 1 = 12V/140Wp
Solar Panel 2 = 12V/125wp
Two Batteries = 260 Ah
Battery 1 = AGM 12V/140Ah
Battery 2 = AGM 12V/120Ah
10 Lines fuses box
Pure sine wave inverter 400w
& 220V-inverter Multisocket
UNLOAD
DOWNLOAD
CABIN
Unload / Download operations are very easy,
need only one person, 20 minutes time, a flat place.